The Bisons are one win away from adding another HJHL title to their collection.
Jaevon Buschlen scored 8:30 into overtime as the Okotoks Bisons fought off a resilient Cochrane Generals squad 3-2 in Game 2 of the Heritage Junior Hockey League final, March 19 at the Murray Arena to earn a commanding 2-0 lead in the best-of-five series.
"That's a very cool feeling and definitely my first time, this is my first time playing in playoffs since Bantam," said Buschlen, a 2001 born forward and Okotoks minor hockey alumnus. "That was a one-of-a-kind experience and I'll definitely never forget that, for sure.
"This is a huge win for us and gives us a shot to go back to Cochrane and win it there and being up 2-0 is probably a sore one for them in a five-game series."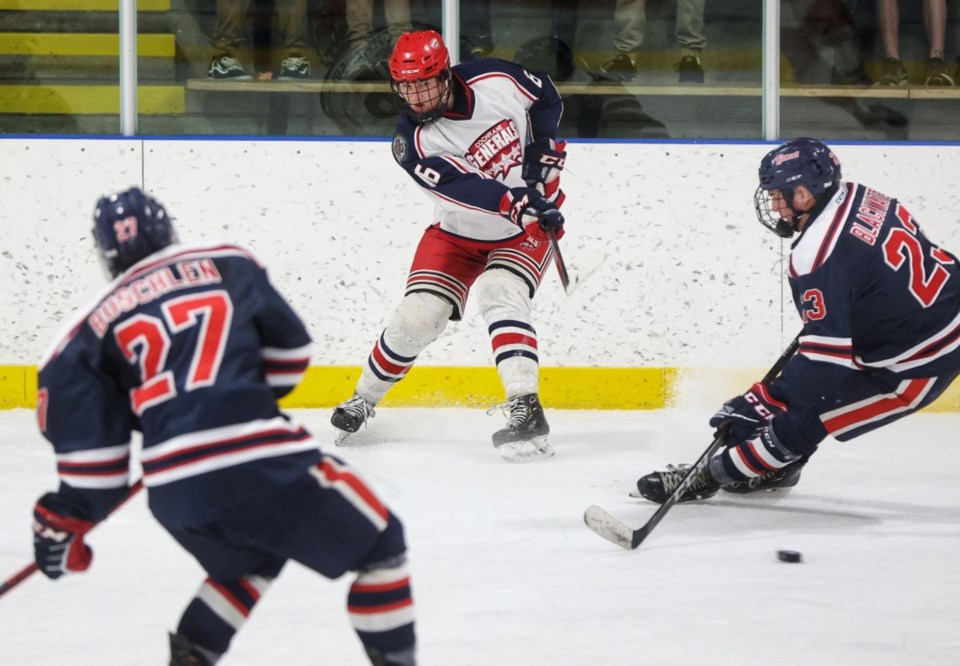 A defensive stalemate played out in the first half of the game with Okotoks power forward Dylan Wenzel breaking the goalless deadlock seven minutes into the middle stanza.
"It was a back-and-forth game the whole time and both teams were getting lots of shots and it came to a point where one of our teams was going to get a goal," Wenzel said. "And whatever team scores that goal is going to win the game, it sets the momentum and sets the boys to just succeed for the rest of it."
Cochrane struck back in the third period in a wild two minute span that saw both teams find the back of the net.
Kyle Crosbie scored his first of two goals in the period on a breakaway, Okotoks' Austin O'Bray answered on the next shift with his team leading 11th goal of the season and Crosbie fired back less than two minutes later on a rebound tally, sending the game into overtime.
"It's nothing we haven't faced before," Wenzel said. "We played Medicine Hat last series and started really well and then faced some adversity.
"As soon as the boys realized we've got to pick it up and play our game, we're able to outplay any team and we showed that tonight."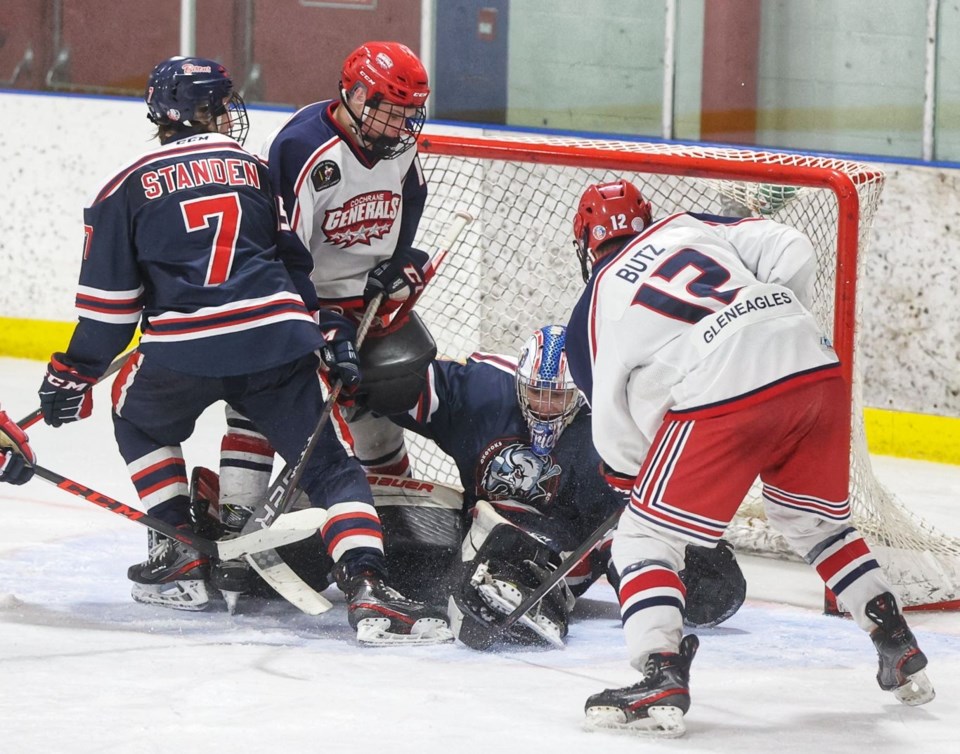 Okotoks' Dylan Fries had 50 saves on 52 shots while his opposite number Davyn Larocke on the Generals turned aside 46 in a stellar goaltending performance at both ends of the ice.
"(Fries) has been playing really well for us and moving that puck and stretching it up which really helps us with being a fast transition team," Buschlen said. "He's just been lights out, his confidence is really high and he's just got to keep going and keep playing the way he is."
Okotoks took Game 1 of the series by a 5-2 score on March 18 on home ice.
As the venues shift to Cochrane for Game 3 on March 24, the Bisons will be entering unfamiliar territory as the only meeting of the regular season between the squads was held at the Murray.
"I think we'll get quite a lot of fans up there," Buschlen said. "And, if anything, our atmosphere will kind of stay the same and we've just got to keep doing what we're doing."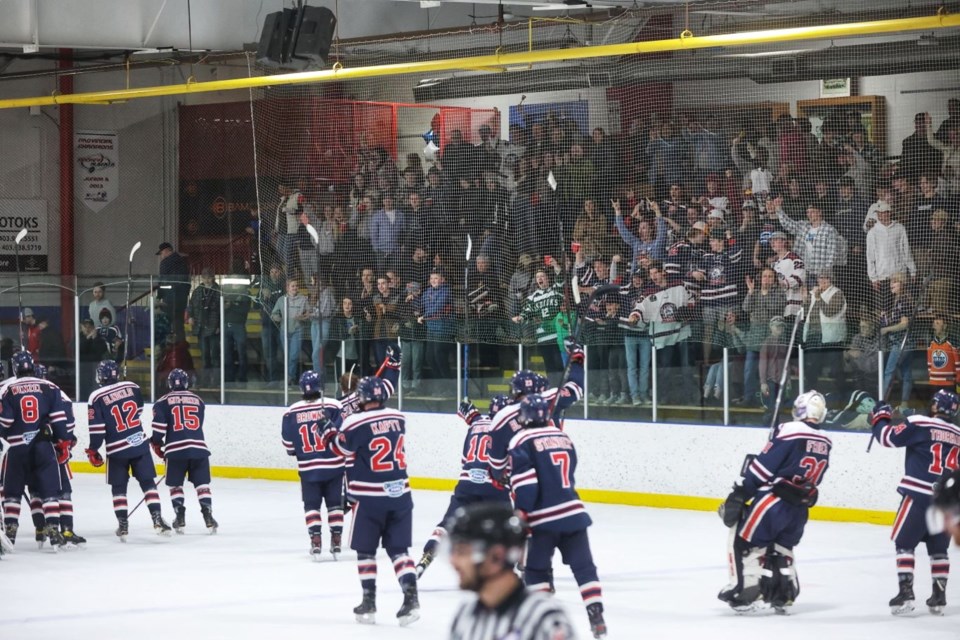 HJHL Final schedule
Game 1: Cochrane at Okotoks. March 18, 8 p.m. Bisons win 5-2
Game 2: Cochrane at Okotoks. March 19, 7:30 p.m. Bisons win 3-2
Game 3: Okotoks at Cochrane. March 24, 7:45 p.m.
Game 4: Okotoks at Cochrane. March 26, 7:30 p.m.
Game 5: Cochrane at Okotoks. March 27, 6 p.m.