With the polls closed and votes continuing to be tallied across the country, the Liberal Party of Canada has secured another minority government.
With 220 of 300 polls reported at the time of publication, Banff-Airdrie incumbent Blake Richards who represents the the Conservative Party of Canada (CPC), will return for another term as he took back the riding in a landslide victory. Richards secured 54 per cent of the vote with a total of 19,863 votes.
"I want to take this opportunity to thank the hundreds of volunteers and donors who supported my campaign as well as the thousands who marked an "x" next to my name," said Richards in an official statement. "I do not take this role lightly, and I promise that I will continue to work relentlessly for our communities. I will not let you down.
"Although Canadians have once again chosen the Liberals as their Government, I can assure you that Canada's Conservatives will continue to fight relentlessly in Parliament and stand up for all Canadians."
Banff-Airdrie is one of the safest Conservative Party strongholds in the country and has featured a Conservative MP since the Canadian Alliance won in 2000. In 2019, Richards received 71.09 per cent of the vote and his previous lowest total was 63.37 per cent in 2015. The highest percentage he got was 74.7 per cent in 2011, when the riding was known as Wild Rose.
The next closest candidate in the riding this election was the New Democratic Party's (NDP) Sarah Zagoda, who claimed 17 per cent of the vote, equalling a total of 6,457. Liberal candidate David Gamble came up third in the riding, securing 4,916 votes. Nadine Wellwood, the People's Party of Canada (PPC) candidate, secured 2,868 votes.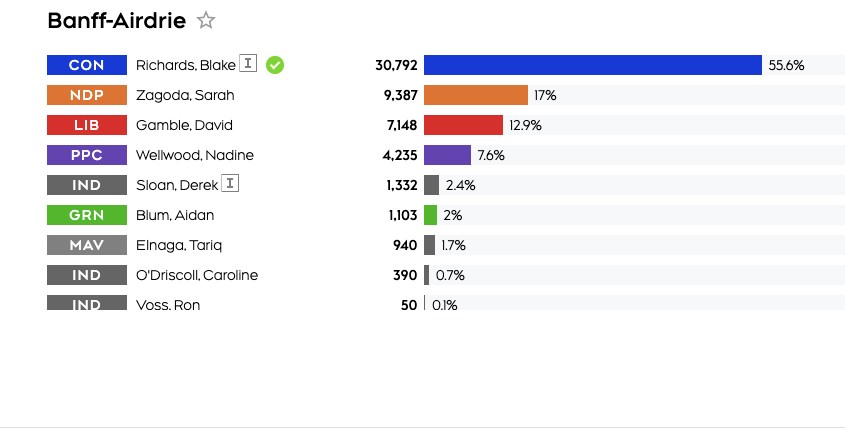 At the time of publication, the Liberals had secured 156 seats, one fewer than the previous election. The CPC currently have 121 seats, the same as the previous election. The New Democratic Party (NDP) grabbed 26 seats, two more than the previous election.
This election saw nine candidates come forward in Banff-Airdrie, featuring Liberal, NDP and Green candidates, but it also had three independents, Tariq Elnaga from the newly created Maverick Party and a return of Wellwood, who represented the People's Party of Canada. Elnaga secured 940 votes, or 1.7 per cent of the total, while Caroline O'Driscoll secured 0.7 per cent and Ron Voss secured 0.1 per cent of the vote.
—With files from Greg Colgan/Rocky Mountain Outlook